Arnold Bax a mis en musique un ballet (une pièce) écrit par J.M. Barrie pour une étoile et qui fut interprété par une autre danseuse... Le texte de Barrie n'est pas aisé à trouver, mais j'y suis cependant parvenue. Il n'a été édité, à ma connaissance et sauf erreur de ma part, que dans cette édition-ci : "The Truth About the Russian Dancers", a play (by J.M. Barrie, introduction by Tamara Karsavina) in Dance Perspectives, numéro 14, 1962.
Quelques pages de ce livre pour votre plaisir, qui correspondent à l'introduction écrite par la danseuse étoile dont il est question ici :
Je trouve que le propos de Tamara Karsavina est fort intéressant pour la biographe de Barrie que je suis dans l'âme... (et peut-être aussi en acte).
Le disque, quant à lui, existe toujours dans le commerce.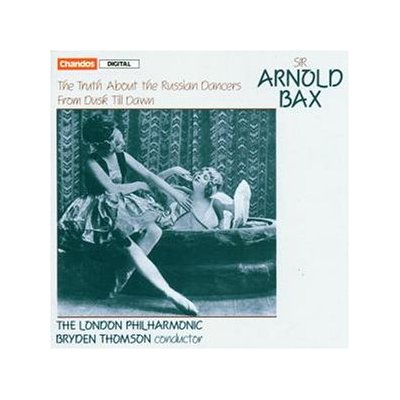 Copie du livret de présentation du disque :
[Cliquez sur les images pour les agrandir dans une nouvelle page.]


Extraits des différentes plages de ce disque :
1. Part One: 1. Overture

2. Part One: 2. Entry of Karissima

3. Part One: 3. Karissima plays golf

4. Part One: 4. Karissima and Lady Vere

5. Part One: 5. The Walking Lesson

6. Part One: 6. Lord Vere tells his mother of his love for Karissima

7. Part One: 7. Karissima appeals for love

8. Part One: 8. Karissima droops pathetically

9. Part One: 9. Karissima's dance of joy

10. Part One: 10. The Wedding ceremony

11. Part One: 11. Dance: corps de ballet

12. Part One: 12. The Wedding Service

13. Part One: 13. A wild night: The Maestro

14. Part One: 14. The clock strikes twelve

15. Part One: 15. Lord Vere pleads for a child

16. Part One: 16. Karissima and Lord Vere go off in gay delight

17. Part Two: 17. Dance of Motherhood

18. Part Two: 18. The Funeral of Karissima

19. Part Two: 19. Child's Dance

20. Part Two: 20. Karissima's Farewell

21. Part Two: 21. Finale



Lire l'article de mon ami Robert Greenham : ici. J'ai déjà fait la traduction, mais il faudra encore un peu attendre avant que je ne la mette en ligne.
[Page en construction]